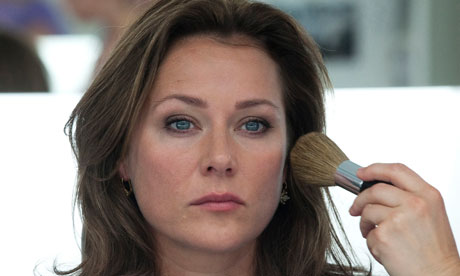 Remember way back in September I wrote about how much I love The Killing? Well now I have a new subtitled love: Borgen. Borgen is made by the same people who made The Killing and has a few of the same actors but this time it's a political drama. Beginning with Birgitte Nyborg becoming Denmark's
first woman Prime Minister (which has actually just happened in real life Denmark), Borgen follows her struggles to keep a majority in a coalition government while NOT giving up her principles (Clegg take note), and dealing with the change from being a normal MP on her bike to being Prime Minister.
I order you to go and watch it NOW
If my ordering you isn't enough to persuade you, here are eight reasons you should watch it:
1. Birgitte is the first woman Prime Minister but they don't make a massive fuss about this.
2. For the first 10 minutes of the first episode there was ONE man.
3. There's no soul-searching about whether or not Birgitte should give it all up and sit at home with her children (touch wood! I've only seen 3 episodes, but I really can't see it going in that direction) SO bored of people going on about women "juggling work and family" I stop reading articles when they witter on about it. No one has ever ever ever ever asked a man how he juggles family and work. I don't think Mothers love their children more than Fathers.
4. Birgitte's gorgeous husband (who played Strange in The Killing II) is always there to give her a snog and support.
5. There's no guilt tripping about Birgitte missing stuff she promised her children she would do – e.g. came home too late to read her son a bedtime story and her husband said "He won't care tomorrow"
6. The other main character (so far) is female tv journalist who chairs debates and stuff on Danish news – like a female Paxo!
8. It's really good! I want her to be our Prime Minister. Can we kill Cameron and get Danish telly to write us a new PM?